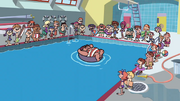 The swimming pool is located on an unknown floor of "Wayside School", and is seen in a few instances, including "He is It" and "Best Friendzzz". It was only seen in the cartoon.
The seventeenth story was built too short. So was this article, but unlike the seventeenth story, this article can be fixed.

Click here to expand it!
Ad blocker interference detected!
Wikia is a free-to-use site that makes money from advertising. We have a modified experience for viewers using ad blockers

Wikia is not accessible if you've made further modifications. Remove the custom ad blocker rule(s) and the page will load as expected.