Sideways Arithmetic From Wayside School is a children's novel by Louis Sachar in the Wayside School series. The book primarily contains mathematical and logical puzzles for the reader to solve.
The seventeenth story was built too short. So was this article, but unlike the seventeenth story, this article can be fixed.

Click here to expand it!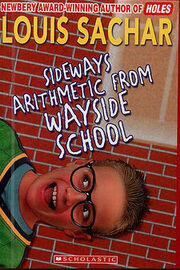 Characters:Todd Maurecia Dana Myron John Joe Stephen Mrs Jewls Louis Bebe Jason Leslie Kathy DJ Principal Kidswatter  NewberyAward-Winning Author of HOLESLouis Sachar