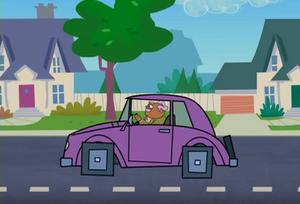 Principal Kidswatter's car
is a 1930's-1970's car driven by
Principal Kidswatter
.
Appearance
The car appears to be a mix of 1930's-1970's cars. The car appears purple and only appeared in "Slow Mo Mo" where Kidswatter tries to drive the car with square wheels and a square steering wheel. The car was never seen with round wheels.
The seventeenth story was built too short. So was this article, but unlike the seventeenth story, this article can be fixed.

Click here to expand it!
Ad blocker interference detected!
Wikia is a free-to-use site that makes money from advertising. We have a modified experience for viewers using ad blockers

Wikia is not accessible if you've made further modifications. Remove the custom ad blocker rule(s) and the page will load as expected.