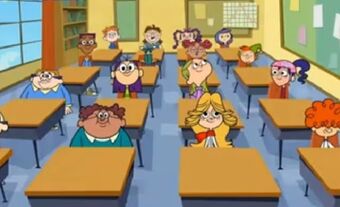 Mrs. Jewls' class is the class in the series taught by Mrs. Jewls on the 30th story. It is the primary class which the series focuses on. In the books, the class originally belonged to Mrs. Gorf, though in the cartoon, it is suggested Mrs. Jewls taught the class, and Mrs. Gorf was only a substitute. In the pilot movie, it is revealed the class is under a large trash compactor, which activates when the PA system activates.
Members
Book and Cartoon
Books Only
Cartoon Only
Former Members
Seating Arrangement
Although many hints are given on what the seating arrangement is in the books, it is still somewhat unknown where every student sits. As well as this, Eric Fry's  seating arrangement is inconsistent, as the third book mentions he sits behind Jenny, placing him in the back row next to Paul. However, the second book states that Allison sits behind him, meaning that another row must be behind him, but since Paul is in the back, as revealed in the first book, the seating arrangement can't be mapped out without inconsistencies. However, the cartoon's seating arrangement, although leaving out thirteen kids, is consistent throughout the episodes, leaving it as a 4x4 square, with sixteen students total.
Ad blocker interference detected!
Wikia is a free-to-use site that makes money from advertising. We have a modified experience for viewers using ad blockers

Wikia is not accessible if you've made further modifications. Remove the custom ad blocker rule(s) and the page will load as expected.