Mrs.Gorf



Mrs. Gorf introducing herself

Gender:
Female
Hair color:
Gray
Eye color:
Blue
Species:
Apple
Age:
Infinite
Birthday:
none (She was never born.)
Personal Information
Occupation:
 
Very Evil Teacher
Residence:
 
The Dead Residence
Homeworld:
 
Planet Gorf
Friends:
 
Mr.Gorf, Mr.Mrs Gorf, The Old Gorf, Baby Gorf, Grandpa Gorf, Grandma Gorf, Aunt Gorf, and Uncle Gorf, and all the other Gorfs.
Enemies:
 
Everybody except the Gorfs.
Love Interests:
 
Turning People Into Apples.
Interests:
 
Turning People into Apples.
Goal:
 
To turn everything into an apple.
Family
Parents:
Grandpa Gorf, Grandma Gorf
Grandparents:
Great Grandma Gorf, Great Grandpa Gorf
Spouse(s):
Mr.Mrs Gorf
Children:
Mr. Gorf
Grandchildren:
The Baby Gorf
Siblings:
None
Pets:
a Dragodog
Production Information
First Appearance:
 
Mrs.Gorf
Last Appearance:
 
She's Back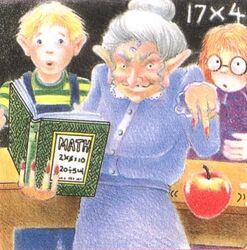 Mrs.Gorf's ears are 30 billion times the size of the universe.Her tongue is 80 ft long. Her horns are 120 ft long. Her tail is 160 ft long. Her eyes stick out on strings that are 3 miles long. Her eyes are the size of 1 World Trade Center. Her fins are 300 ft long.
Ad blocker interference detected!
Wikia is a free-to-use site that makes money from advertising. We have a modified experience for viewers using ad blockers

Wikia is not accessible if you've made further modifications. Remove the custom ad blocker rule(s) and the page will load as expected.