Jenny
Gender:
Female
Hair color:
Blonde
Eye color:
Black
Species:
fools human
Age:
10
Birthday:
December 13,
Personal Information
Occupation:
 
Student
Daredavil
Homeworld:
 
USA
Aliases:
 
Jenny

Sister J

Friends:
 
Maurecia
Love Interests:
 
Boris,

Todd, Myron (possible love interest)

Interests:
 
Extreme stunts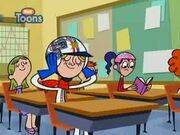 Jenny is Maurecia's best friend. She dresses like Evel Knievel the dare devil, and uses her motorcycle to perform amazing stunts like he does. She has a Southern accent. The episode "Daring Love" hints that she may have a huge crush on Myron. She owns a dog named "What", and has a particular love for being a daredevil. Jenny can ride a motorcycle better than anyone else in the world (including Evel Knievel). The motorcycle resembles a blue Harley Davidson. In Daring Love, she uses stunts the most. Probably the only kid in the world who can ride a motorcycle. (Even without a helmet.) She seems to easily fall in love. She has a big crush on Goon.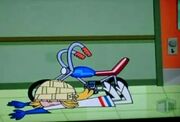 Ad blocker interference detected!
Wikia is a free-to-use site that makes money from advertising. We have a modified experience for viewers using ad blockers

Wikia is not accessible if you've made further modifications. Remove the custom ad blocker rule(s) and the page will load as expected.