Jane Smith




Jane Smith as illustrated by Peter Allen.

Gender:
female
Hair color:
black
Eye color:
brown
Species:
human
Age:
34
Birthday:
July 7,
"Rub a monkey's tummy with your head!"
Jane Smith, 'Wayside School Gets a Little Stranger'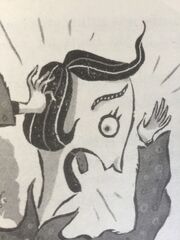 Biography
Jane Smith was a student in Mrs Drazil's class 26 years ago. In the chapter "The Blue Notebook," Dee Dee finds a note from Jane Smith to Mrs Drazil. The note says she is moving away and won't be completing any of the last twelve pieces of homework. In the note she tells Mrs Drazil to "Rub a monkeys tummy with with your head."
We next hear from Jane Smith in the chapter 'OpenWide.' In this chapter we discover that Jane Smith, (now known as Dr Payne), is Jason's dentist. It says she has long fingers and even longer finger nails.
In the chapter Jane Smith, we discover she made a lot of money from being a dentist and lives in a mansion with her husband Sham Payne and her dog Brussel and her cat Spouts.
One evening Jane and Sham are visited by Mrs Drazil at their mansion. Jane tries to make a quick escape in a motorboat with Mrs Drazil in hot pursuit, in a row boat. Neither of them was ever seen again. The last thing Jane Smith said was "Rub a monkey's tummy with your heaaaaaaaaaa . . .''
Personality
Jane Smith loves money even more than her husband. We discover in the chapters 'Open Wide' and 'Jane Smith' that she often drills teeth that don't need to be treated, in order to make extra money. In the chapter
'The Blue Notebook,' we learn that Jane Smith hates homework and loves to brag about not doing it.
Relationships
She is Sham Payne's wife and Jason's dentist, in the book. We also know that Jane Smith was a former student in Mrs Drazil's class and that they had a bad relationship because Jane never did her homework.
Trivia
Her husband's name is a pun on the word "champagne", while her two pets' names are a pun on the word "Brussels sprouts".
Ad blocker interference detected!
Wikia is a free-to-use site that makes money from advertising. We have a modified experience for viewers using ad blockers

Wikia is not accessible if you've made further modifications. Remove the custom ad blocker rule(s) and the page will load as expected.